M.Sc. Matthias von Andrian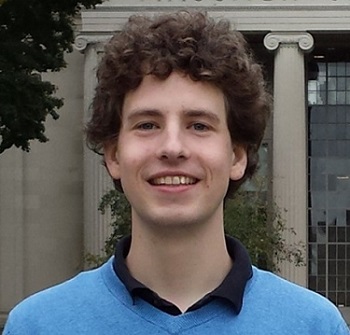 Career
Studies:
2009-2015
B.Sc. in Industrial Engineering for Process and Energy Engineering,
M.Sc. in Process Engineering
Otto-von-Guericke University Magdeburg
Doctorate:
since 2015
at the Massachusetts Institute of Technology in Cambridge, USA in the group from Prof. Braatz
Why the decision for the bachelor's degree program in Industrial Engineering for Process and Energy Engineering and for the master's degree program in Process Engineering?
After graduating with my general qualification for university entrance (Abitur), I was quickly certain that I wanted to study something technical as well as application-oriented. Additionally, I developed an interest in chemistry during my school days, and also the statement "you can always use economics" stuck with me. I decided to pursue a degree in industrial engineering relatively quickly.
The study programs offered by the Otto-von-Guericke University in Magdeburg intrigued me because they provided me with the opportunity to study the subject of industrial engineering in various disciplines, including process engineering. This enabled me to pursue my interest in chemistry. The division of content into approximately 1/3 economics and 2/3 engineering sciences also corresponded to my expectations.
In choosing a master's degree program, I decided on process engineering, since it allowed me to concentrate on the part of my bachelor's program which I personally found more interesting. Since industrial engineering students participate in the most of the important technical lectures along with the process engineering students, the change in the area of study did not pose any problems and I did not have to take any additional classes. Approximately half of the lectures in the master's program are electives from the faculty's wide selection of courses, which enabled me to further specialize my own studies within process engineering to focus on the description and simulation of industrial processes.
Why should one choose the degree program in Industrial Engineering for Process and Energy Engineering?
The degree program provides the opportunity to discover three main topic areas:
Foundations of economic sciences, which are taught in 2 lectures per semester. This provides an overview of the most important disciplines, which may be studied further in master's degree courses in case specific interests arise.

Process engineering, an interesting science that deals with the production and processing of chemical and natural products. The basic principles in math, physics, and chemistry are refreshed and expanded, and then, among other things, one will learn which equipment is used for which processes. In addition, one learns which conditions must exist for chemical processes and how their behavior can be predicted.

In the lectures on energy engineering, one learns how different forms of energy such as heat and motion can be used and converted into one another, and which limitations arise.
Through the coverage of this broad spectrum of topics one has a wide range of opportunities to specialize in one or more subject areas in an associated further study program or through the choice of a profession.
What is exciting about process engineering?
I am fascinated by how new things come about through simple processes (mixing, heating, …) and how everything can be guided and exploited in a targeted manner. We run into many products resulting from such processes in our everyday life: most foods, plastic components of all sorts, and much more. Large plants in the production of chemicals especially fascinate me.
What is exciting about economics?
In economics, most efforts are aimed at applicability and benefits. Here one can often see how one's own work is implemented and becomes tangible. In process engineering, this often involves planning, construction, and commissioning of new plants, or the improvement of existing plants.
What is exciting about science?
In science, it is often about answering fundamental questions, and the goal is usually not quite as clearly formulated. This gives me a lot of freedoms as a scientist, and I can take responsibility for different ideas, ask new questions, and try to find answers. From the first idea to the application, however, a lot of time can pass and the results therefore are sometimes not very specific.
Can anyone do this?
Anyone who has an interest in natural sciences and who is interested in chemistry and technology can study process engineering. The willingness to become acquainted with new things and to get through one or the other difficult subject is also helpful, whereby the latter can usually be mastered by the help of fellow students and applies to almost every degree program.
More information: